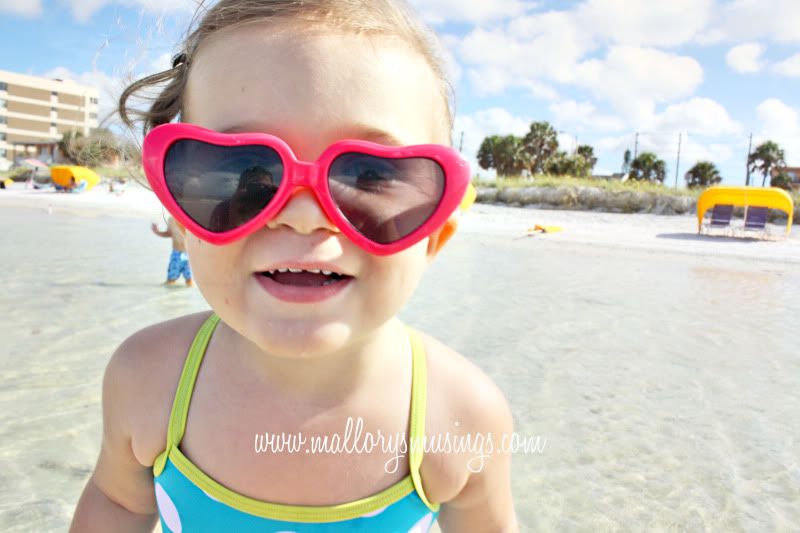 Toddlers are so funny. Aubrey is a great age where she is just doing stuff that cracks us up all the time. Of course she still makes me want to tear my hair out 10 times a day but at least she cute, right? Here is some of the stuff she's been up to.

~You see the sunnies she has on in that picture. She put them on while I was packing our beach bag and didn't take them off until we got back home from the beach. A total of about 3 1/2 hours.

~She likes to say that things are "soooo beautiful!" Usually she uses in in the right context but the other right we ordered take out she was eating chicken fingers with ranch dressing. She dipped one of her pieces of chicken in an obscene amount of ranch and then proceeded to hold it as high as she could in the air and yelled, "SOOOO BEAUTFIUL!!!"

~Like I have said before she likes to do everything I do which includes shaving. I am often doing a quick leg shave before leaving the house because I forget or am too lazy to do it in the shower. Aubrey now "needs" to shave too so I give her my eyelash curler and she does her thing.

~The guy who built the cabinets in our kitchen closet name is Paul and he happens to be bald. Now every time Aubs sees a bald guy she says, "Hi Paul". She must have done this to at least 3 different men when we were at the beach the other day.

~She can spell her name by saying the letters out loud now and she gets so excited about it. She gets super offended if you don't clap and yell, "Yay" every single time.

~She puts stickers on my belly and says they're for her sister.

I think that's about it for all her cutest at the moment but I'm sure I will be back with more in a couple of weeks.