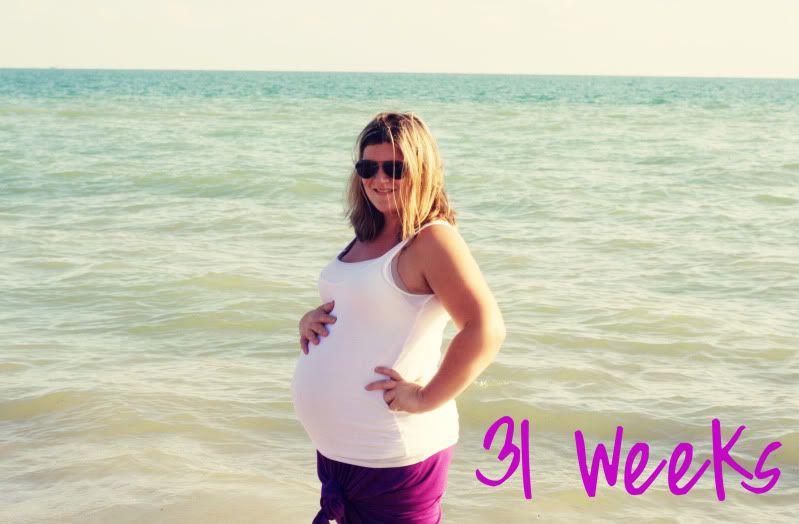 Yes, I know I'm huge. If I somehow wasn't aware of this I would be because a teacher at Aubrey's school likes to act like I'm the biggest pregnant woman she has ever seen every time I drop Aubs off. The first time I didn't mind but after the fifth I started to get a little annoyed. Not only do I look big but I am really starting to feel it. I've been having a lot of sciatic nerve pain which I had when I was pregnant with Aubrey too but this time it is much worse and more consistent. I think it's because I am getting up and down from sitting on the floor to standing a lot more often this time. Actually I can't think of any reason why I would have sat on the floor last time at all. Now a days I'm lucky if I can go an hour without sitting on the floor.

Sleep has also been pretty bad. I have a hard time falling asleep. We usually go to bed around 10:30 or 11:00 and I'm lucky if I can fall asleep by midnight. Then I'm up about every two hours to pee or adjust my position. I think my brain is somehow trying to prepare me for those sleepless newborn days. I'm okay waking up in the morning it is just around 3 in the afternoon or so that I start to lose all of my steam.

Okay enough complaining- do you want to hear something positive? We are going for a 4D ultrasound on Thursday! I love those things. Yes, they are a little bit freaky but I also think that they are pretty amazing too. We are bringing Aubrey with us which should be interesting. The place is pretty laid back so I think she will be fine. Maybe this will help her connect the dots a little bit too. Now when we ask her where her baby sister is, she lifts up my shirt or taps my belly which I think is pretty cute. I know she won't really totally get it until we bring the baby home and then the baby never leaves but you know, whatever helps.


Check all the other bumps and babies over at Growing Up Geeky.