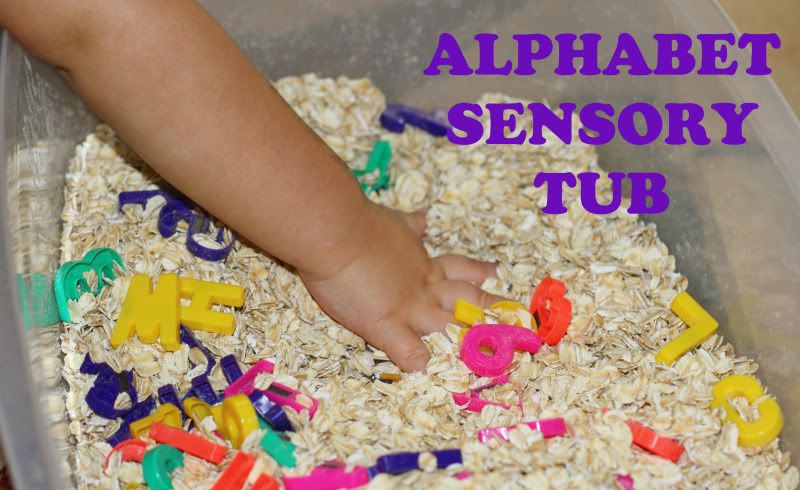 Aubrey is an absolute ace with her alphabet. She can sing her ABCs and identify every letter. She knows the sounds that most of the letters make and she is now starting to associate letter sounds with words. Last week when my husband came out of our bedroom in the morning Aubs shouted, "D for Daddy" out of nowhere. We do a number of activities that involve the alphabet but one of the most fun is our alphabet sensory tub.

I was cleaning out my cabinets a few months ago and found that nearly a whole container of Quaker oats had expired. I felt bad just dumping them out and then remembered seeing oats used in a sensory table on a blog somewhere. I had been meaning to put some sensory activities together for Aubrey so this seemed like the perfect opportunity. We don't have a sensory table so I dug out a huge Tupperware that I use for Christmas cookies and pretty much Christmas cookies alone because the Tupperware is that big. I put in the oats and felt like it wasn't full enough so I used another container of unexpired oats to bring it up to a level I was happy with. Why do I have two large containers of oats? Beats me, I was probably food shopping and thought that oatmeal chocolate chip cookies (my favorite) sounded good. I then decided to up the ante and add magnetic letters to the mix.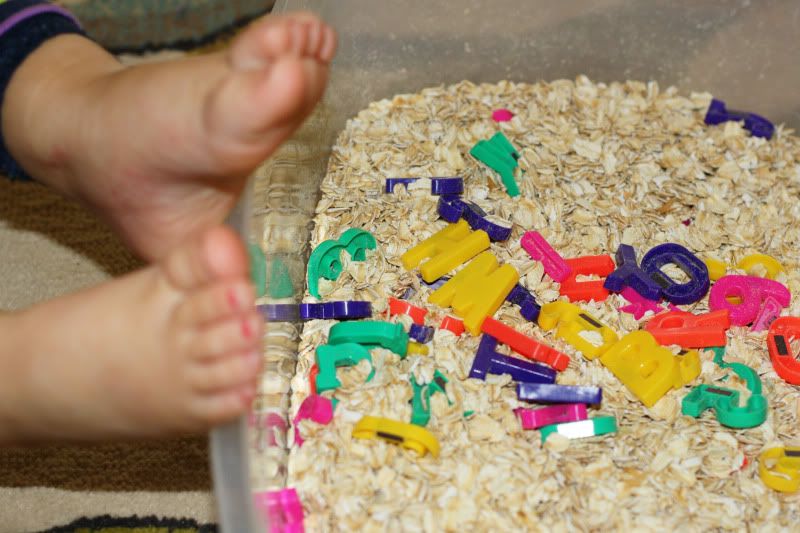 Aubs loves playing with this. Here are some of the activities we do using this sensory tub:

~ Have child find letters and tell you what letters they are
~ Talk about the sounds each letter makes
~ Name words that begin with each letter pulled
~ Name the colors of each letter
~ Group letters according to color or have them find all the letters that are a specific color
~ Help them spell out small words or their name by finding each letter one by one
~ Find letters in the order of the alphabet
~ Just have fun with some plastic cups and sand shovels digging around in the sensory box.