When I saw a bunch of my fellow blog buds do this yesterday, I had to join in. I mean how often do you have the excuse to show off what you wore on your wedding day? I guess since this is my blog and all I could do it when ever I wanted but you know what I mean.

I was engaged for a year and a half before I got married so a lot of time and energy went into planning. I was living in Florida and planning a decent sized wedding to be held in Pennsylvania. Joe and I both grew up in the Poconos and Joe is originally from New York so the majority of our friends and family were up there.

It was a beautiful and fun day but much of it was a blur. Thankfully we have tons of pictures and video to remember the day. If I had to do it all again- I may have opted to a destination wedding. At the time when I was 24 years old it was exactly what I wanted- lots of flowers, lots of people and way too much money.

Here's what I wore: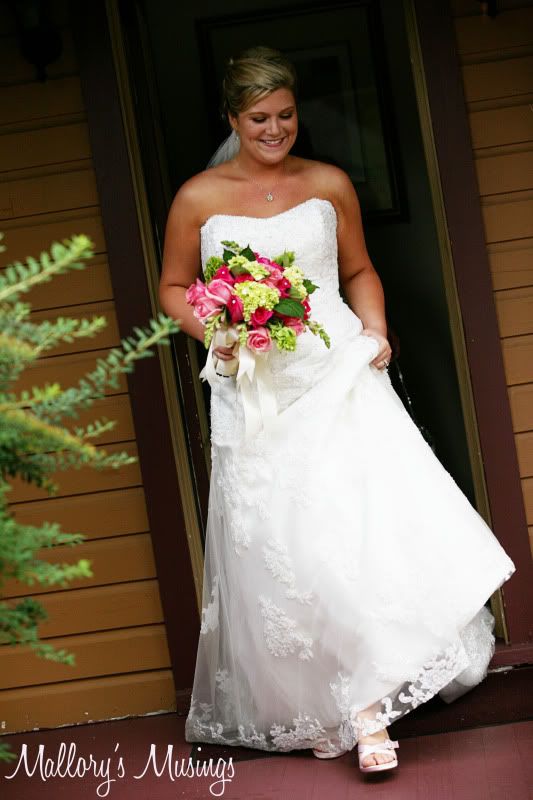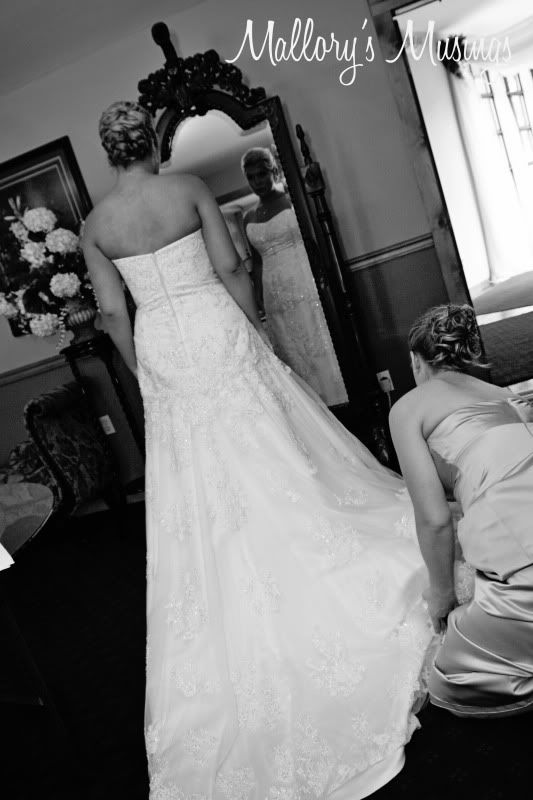 My Dress was a custom made design for C C's Boutique in St. Petersburg, Florida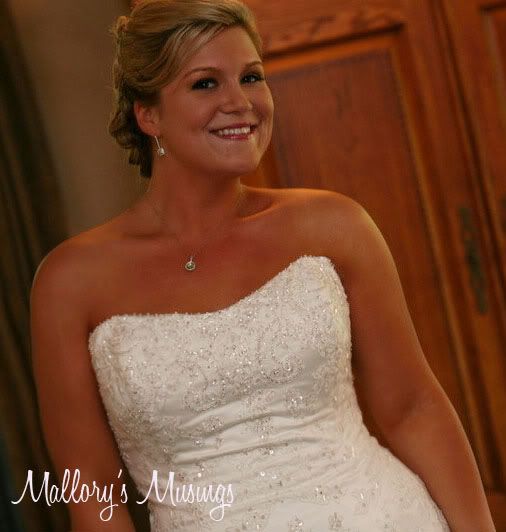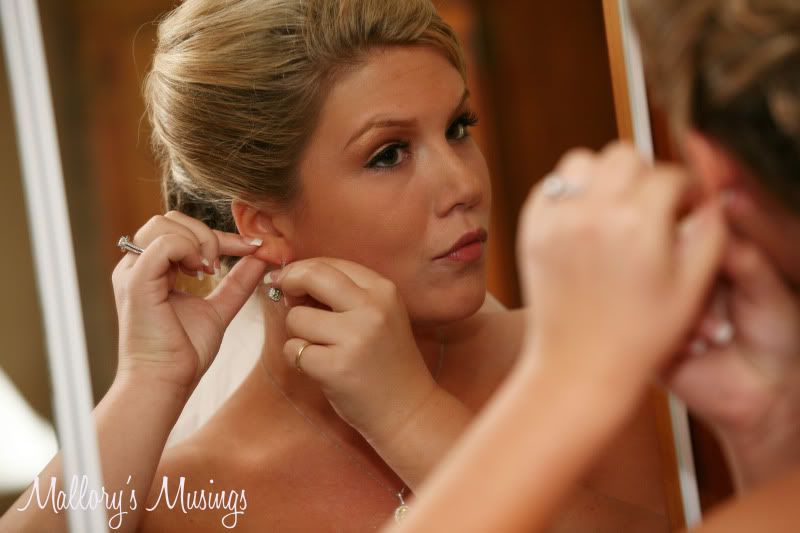 My earrings, necklace and wedding band were all from Continental Jewelry in Tampa. I highly recommend the place. They custom made my earrings out of two different pairs, a set of diamond strands and a set of peridot studs. While my jewelry was a bit on the pricey side, I hope that the pieces will become heirlooms and my daughters will want to wear them on their wedding day. I also wore my grandmother's wedding ring on my pinky (she was way thinner than me) that is engraved with my grandparents intials and their wedding date 10/14/44. It was my something old and very special to me because my grandma had just past away the year prior.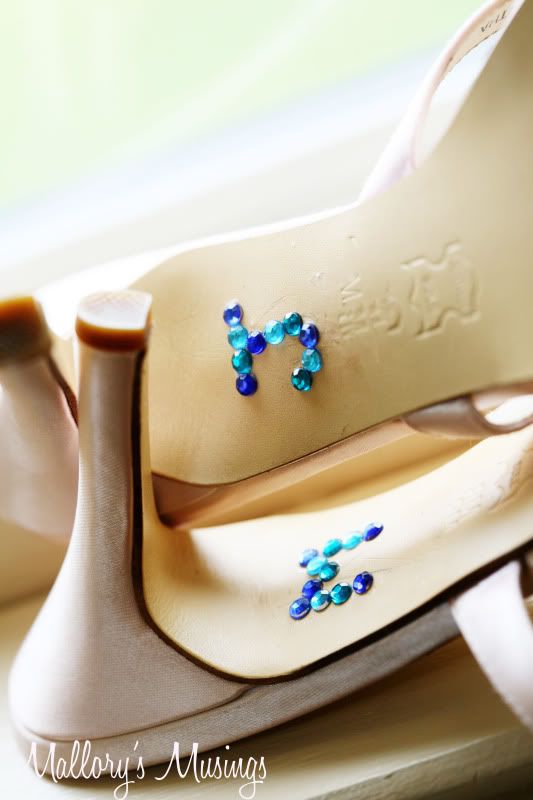 My shoes were from David's Bridal. I had them dyed a pale pink and glued mine and Joe's initials on the bottom for my something blue.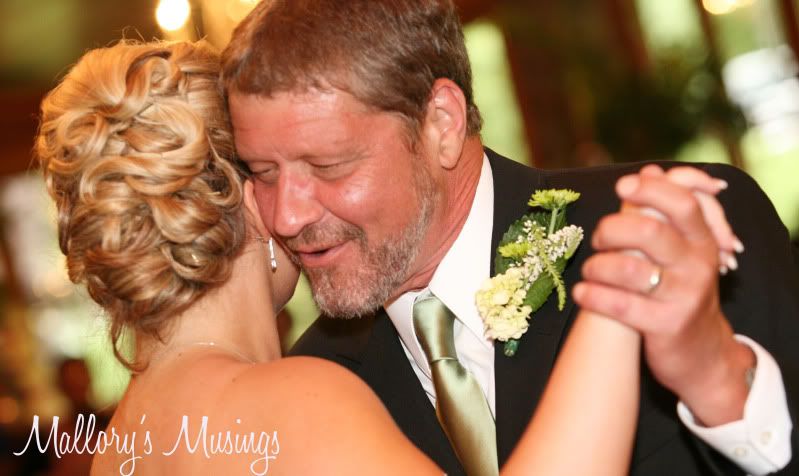 Me dancing with my dad. This is one of the best pictures I have of my hair that day. This isn't exactly what I asked for but I loved how it turned out. The little bit on the bottom that is falling out is because I had my veil was clipped to the bottom during my ceremony.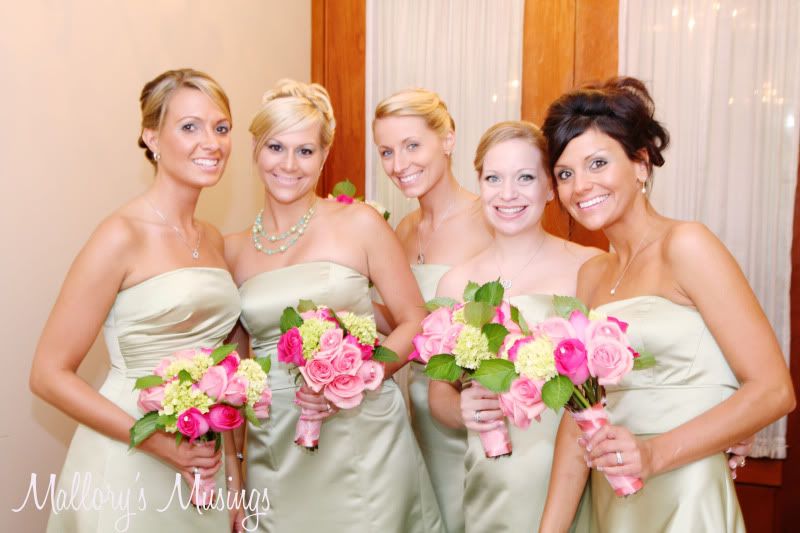 My beautiful bridemaids were all in Alfred Angelo dresses of their choosing as long as they were in that color.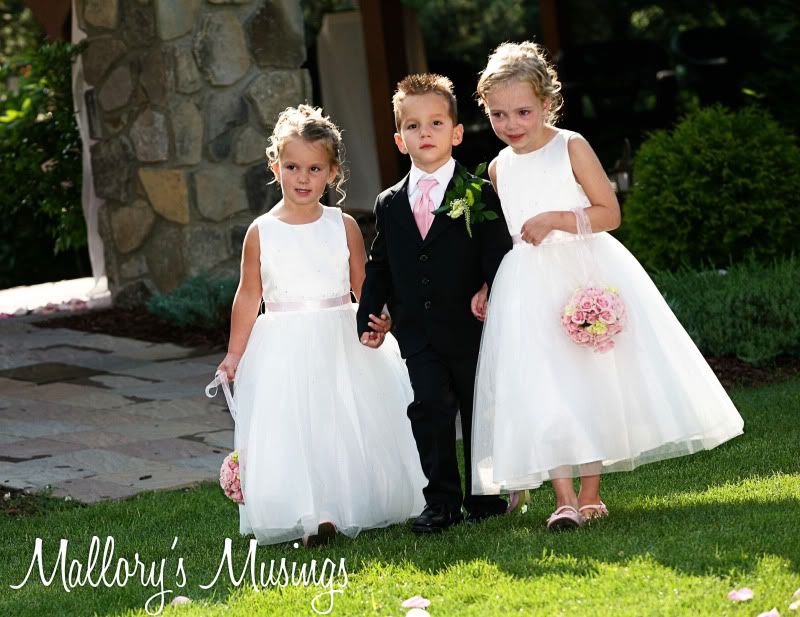 Aren't they the cutest? Alyssa and Ashleigh's dresses were custom from C C's like my dress and Paulie's suit was from JC Penney.




I am linking up with Absolute Mommy and you should too!