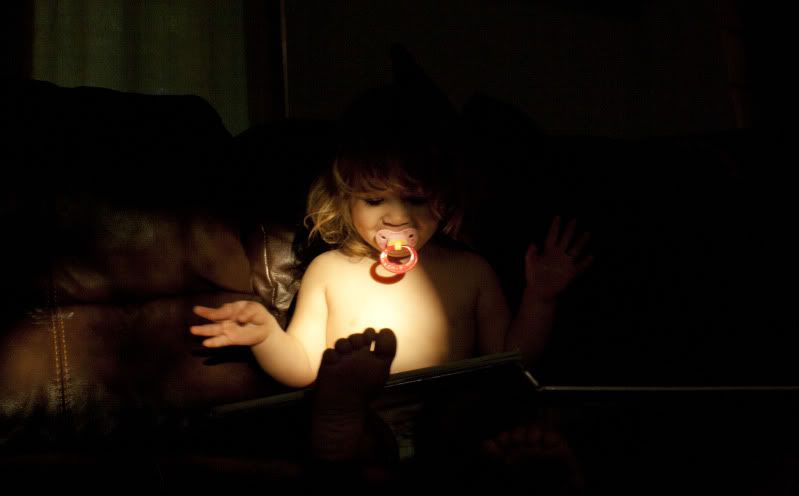 The title of this post should really be "Huge Hunks of Happiness" because I have a lot to be happy about this week. Let's start with the Doodle because the picture above is of her so it seems only natural to start with her. Today was the first day since Aubs' first day of preschool that she didn't cry when I dropped her off. I know I haven't updated on this since I was super excited that she didn't cry the first day but she cried every day following. Even a couple of days she cried when I picked her up. I was going to give it a couple more weeks and then throw in the towel because her going to preschool was more of a luxury than a necessity. I didn't feel comfortable leaving her somewhere she wasn't comfortable just for a few hours a week to myself.
On Tuesday she only cried for a minute or two and then started singing "Old McDonald" with all of her little buddies. I took this as a good sign being that every other day I had left her there crying. Then today she walked right over to one of her little friends and sat down without any tears! While I was signing her in she even waved at me and said, "Hi Mommy!". I can't tell you how happy/relieved I am that she is finally getting in to the swing of things there.

The next thing that I am over the moon happy about is that things with the new babe don't seem to be as scary as I thought they were. I had an appointment with my midwife on Tuesday and I pretty much broke into tears the moment she walked into the room. She seemed confused and asked me what I was upset about. I told her about the ultrasound findings and she said that nothing that she saw on her report seemed alarming. She showed me all the charts and said that the abdomen wasn't measuring small, I must have heard them wrong or they must have mixed something up. The baby was measuring a bit small overall but that is completely normal at this stage in pregnancy. She actually looked back on Aubrey's 20 week ultrasound and saw that she too was measuring a week to a week and a half behind at that stage. You don't even know how much of a relief this was. I had been losing sleep and spending countless hours scouring the internet for information. So with that said, there is tons to happy about this week.