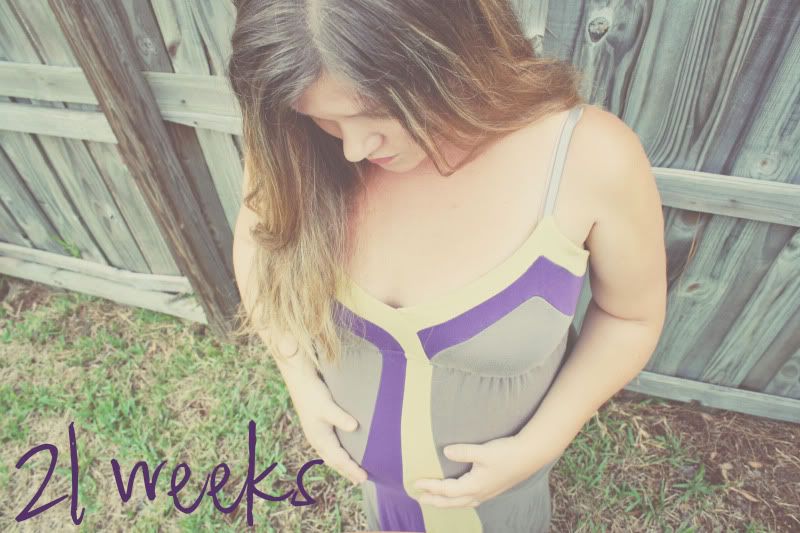 The big news this week is that Joe got to feel the baby move for the first time. We were watching the end of Water for Elephants and the part were the brass band is playing at the club really got the baby moving. I think I made him hold my belly on and off for about 20 minutes but he managed to feel a few good kicks.

Everything else is pretty much the same. I'm still more emotional and mood swingy than usual which kind of sucks when I'm dealing with a two year old. Thankfully she hasn't given me too much trouble this but I also think that the time outs that I have been giving her are starting to sink in. Hopefully we'll have her fits mostly under control by the time the new baby arrives.

My belly has started to come a lot more defined, so a lot of the loose shirts I am wearing are starting to get tight and not fit so well. My boobs are also starting to get bigger which I hadn't realized until my brother in-law tagged me in a picture on facebook holding Aubs and they look like they are going to fall out of my shirt. Obviously I need to be more careful about wearing lower cut tops now so I'm not flashing the general public.

Only about a week and a half until I have my next ultrasound. Hopefully we will get a definite conformation of the sex of the baby. We still think it's a girl and my husband will actually bet money that it is. At the 16 week ultrasound they seemed pretty sure that it was a girl but it was so early that I would just like a little more reassurance. If this next ultrasound if still iffy- I'm claiming team green for the remainder of my pregnancy.