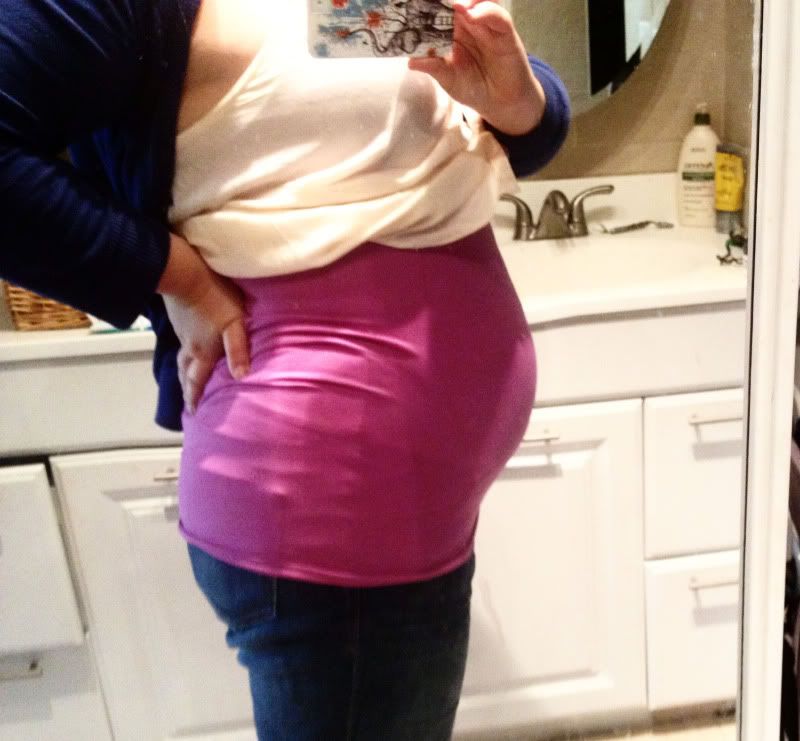 First off, I would like to apologize for the horrible selfie of my bump. Our life has been shaken up a bit this past week with an unexpected death on my husband's side of the family. I had intended on taking my bump photo yesterday but I woke up at 5 am with severe stomach cramps and was out of commission pretty much all day yesterday.

So let's talk about my illness yesterday since this is my weekly pregnancy post. It was your typical stomach flu but with the addition of take your breath away stomach pains. We were about two seconds away from going to the emergency room because I was really afraid that I was going into early labor. Yes- they were that bad. Every time I moved from about 10 am to noon I had extreme abdominal pain that would last about 30 seconds. Once I got some food into my system that laid down and took a nap I felt a little bit better but the pain would still come on every time that I moved around a lot. These pains didn't stop until about 3:30 this morning. I called my doctor to see if I should come in and the nurse told me that there was a nasty stomach virus going around and as long as I was feeling okay today and I could still feel the baby moving I should be fine. I have to call them back if I start to get the stomach cramping again. It was awful- thank god my husband was home yesterday.

I'm kind of full of bad news today and this is becoming a downer of a post- whomp whomp. You know how I had my ultrasound last week and I was hoping that they could confirm that I was having a girl? Well I went and they couldn't tell if it was a boy or a girl because the position of the babe and my anterior placenta. I have an upper level ultrasound scheduled for May 10th so keep your fingers crossed for me.

In other news I should be posting more frequently this week. My husband is out of town for the next couple of days to attend funeral services in New York so I will have a little more time on my hands to work on the computer. I hope everyone had a lovely weekend- even if it wasn't so lovely I hope that it was better than mine!