These cookies were such a pain to make because of the layering. They tasted great though so next time I make them I think I am going to skip the bar part and just make them slice cookies. I also though they could have used a little bit more cream cheese flavor so I am going to play around with adding more cream cheese and a little more flour to even out the consistency.

I found this recipe in Better Homes and Gardens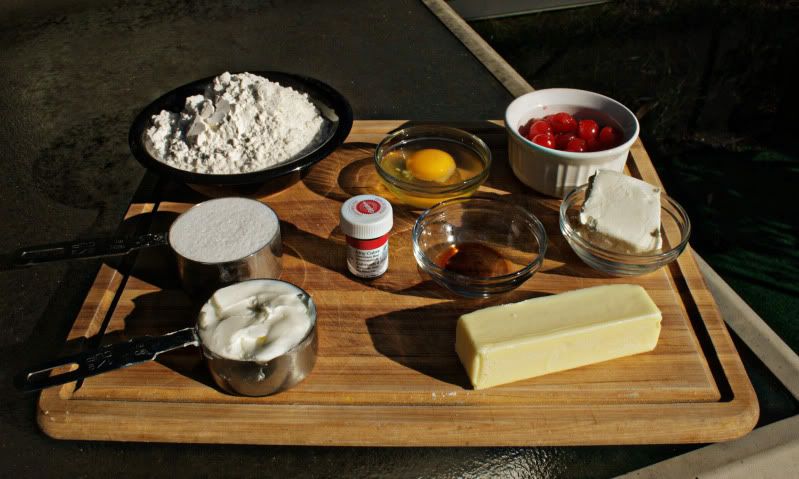 Ingredients

6 oz jar of maraschino cherries
1/2 cup butter softened
1/2 cup shortening
3 oz cream cheese softened
2/3 cup sugar
1/2 tsp salt
1 egg
1/2 tsp vanilla
2 cups all purpose
Red food coloring (I used frosting tint b/c I was out)
Milk- small amount for layering dough

~ Drain cherries and reserve juice. Pat cherries dry with paper towel and finely chop. Set aside

~ In large bowl combine butter, shortening, and cream cheese. Beat with electric mixer until combined. Beat in sugar and salt. Remember to scrap down edges. Beat in egg and vanilla. When all ingredients are combined, gradually beat in flour.

~ Divide dough into three portions. Leave one plain, into another stir in 1 tsp reserved cherry juice, & into the last one stir in mixed cherries. Wrap each piece of dough in plastic wrap and chill for 2 hours.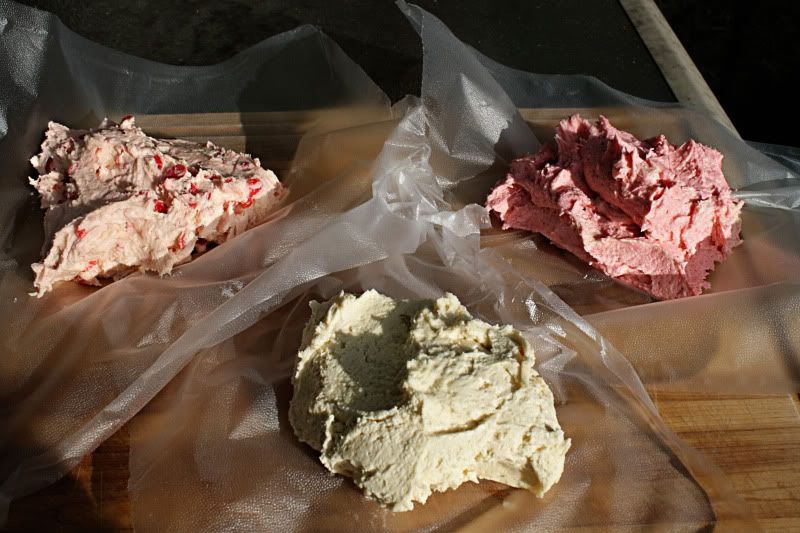 ~ When dough is chilled, light flour 3 pieces of parchment paper. Roll out each piece of dough into a 6 inch square and then cover with plastic wrap and freeze for 30 minutes.

~ When dough is firm- place plain square of dough on your work surface and brush top with a little bit of milk. Place pink square on top of white and brush with milk and then place on cherry square. Lightly press layers together and trim off any pieces of dough that aren't aligned. Cut dough stack into thirds and freeze each third for 20 minutes. You can also preheat your oven to 375 degrees at this time.

~ When the thirds of dough are firm remove from freezer and slice each bar of dough into 12 pieces. Place slices on prepared cookie sheet. If any layers are starting to separate lightly press them together.

~ Bake about 10 minutes or until edges begin to brown. Transfer to a wire rack to cool.

~ Enjoy!





I am thinking about doing a series on Christmas cookies/holiday baking. If you are interested in guest posting one of your recipes please e-mail me at mrubino828@yahoo.com

Also if you haven't entered Giveaway- there is only one day left!