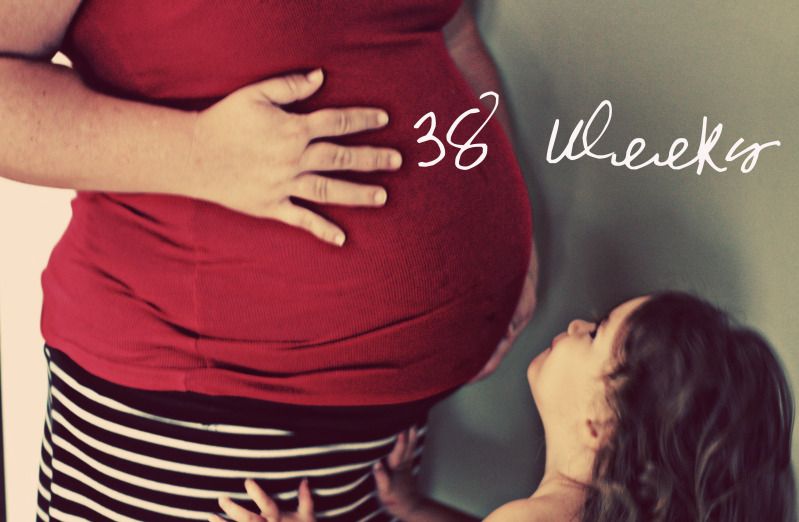 38 down- 2 to go, hopefully no more than that. Well I suppose I should get the complaining out of the way first. I have been really uncomfortable the past few days. I have a hard time sitting because the baby likes to stretch out a lot and when I'm sitting, especially on the floor with Aubs, the baby will push up hard against my right rib cage. Aubs doesn't quite get it when I need to stand up when we are in the middle of playing a game so she has been getting frustrated with me lately.

Other than that the baby is good. I have been 2 centimeters dilated and 50% effaced since last week, no change since the first check. At my appointment this morning I made my midwife feel around my belly to see if she could tell me if the baby was big or not because she feels bigger than Aubrey to me. Of course my midwife doesn't know for sure but she said that this baby feels like she will be bigger than Aubrey who was 7 lbs 9.5 ounces when she was born. I told her I'm cool with anything under 9 pounds and she laughed at me and said as long as the baby is healthy. She's right but for some reason I'm terrified that this baby is huge, that she is going to be 10 plus pounds. One of the more silly reasons is because I hate when people say, "Whoa that's a big baby." I think that if she is 9 plus pounds then I will definitely get a ton of those comments because 9 is on the bigger side. I guess I just can't be so sensitive about it. There were a handful of people who said that about Aubrey when she was born and it really rubbed me the wrong way. I mean she wasn't even 8 pounds, I think in the 7's is pretty average. Actually I hear about babies being in the 7s and the 8s way more then them being 6 pounds or less. Oh well, we will just have to wait and see.

We are so excited to finally get to meet this little one!