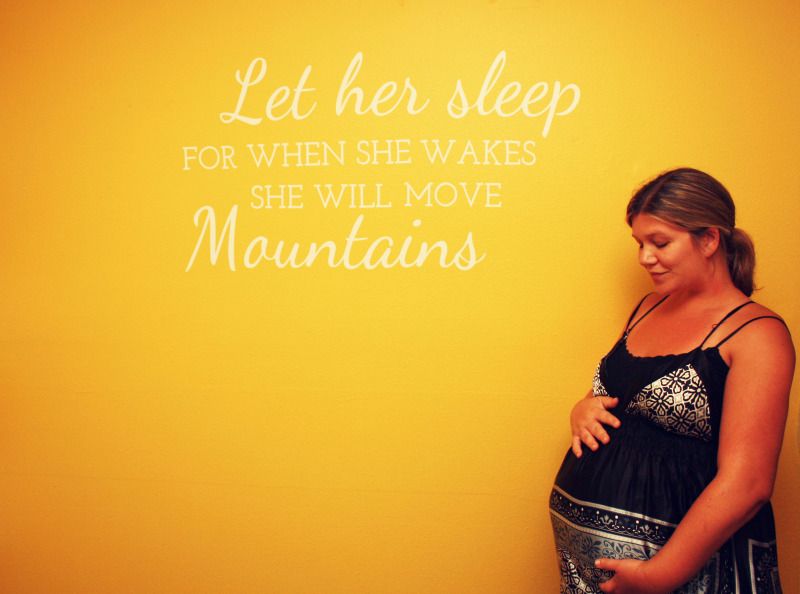 I'm standing in the nursery here. The crib goes right under this gorgeous quote that my friend Jaime made for me. It looks a little crooked in this picture but it's not in person- blame the hubs photog skills for that one.


Welp... only 4 weeks left! I'm pretty excited about this because I'm getting pretty uncomfortable to do anything and also and more importantly we will get to meet the little miss. Back to the uncomfortable part. Maybe I just don't remember it but I don't remember feeling quite like this with Aubs. Joe and I went out to dinner on Saturday night for our anniversary and planned to do some shopping afterwards. Dinner was great but shopping didn't go as smooth. About an hour in I started having contractions and had to stop walking about every 50 feet. Umm yeah so that was a little scary. When I was pregnant with Aubrey I was so eager to get things going that I was walking laps around my neighborhood at nearly 40 weeks and didn't feel as much as a cramp. I don't know if it's because it's my second baby or what. This whole pregnancy has been so different from my first one that it's crazy.

I'm good otherwise. I am actually getting really excited to have a newborn around again and to get our life as a family of four started. We are also finally starting to get all of our million little projects checked off of our list. The nursery is almost done and Aubs big girl room is well on it's way to being fully decorated. So yeah other than feeling like my water is going to break in public, life is pretty sweet.