Monday I usually do my pregnancy update but because of an extreme weather situation I haven't gotten a picture yet so that will have to wait until tomorrow. If you follow me on instagram (username: malliety) than you know that I have been battling tropical storm Debby for the past few days.

The beginning of the weekend started out really productive. We made the most of all the rain and decided to get some things done around the house as long as Aubrey would corporate. She actually let us get a lot done. We painted the kitchen, cleaned out the room that will be the baby's room and organized some closets. Then the worst thing ever happened- okay maybe not the worst but still not great. Our power went out at 4 o'clock yesterday afternoon. We called the power company and they said that it should be back on by 9 that night. This seemed pretty reasonable because it was just a tropical storm and not a hurricane or tornadoes.

We packed ourselves up and headed over to my mother in-laws to hang out since there was nothing we could really do around the house. Although it was only 4, it was still pretty dark out because of the storm. My mother in-law had power but a lot of the roads in her neighborhood were completely flooded. When she came home from work her car stalled out because of all the water and a bunch of her neighbors had to help her push it into her driveway. We decided not to chance stalling out our suv so we parked down the street where there was less water and waded our way to the house. It was probably pretty funny to see a very pregnant woman with her skirt hiked up past her well knees wading through a foot and a half of water.

We got back home around 9 o'clock last night to a very dark and quiet house. We waited up until 10:45 and then gave up and went to bed. Let me tell you, being 7 1/2 months pregnant and trying to sleep with no air conditioning or fans in June in Florida is not fun. On top of the heat I usually sleep with the sound of a floor fan on and the hum of the baby monitor. I maybe got 2-3 hours of broken sleep and this morning the power still wasn't on. We called the power company again and they said they had no estimated time that the power would be back on.

Since my house was nice and toasty I decided I would head up to my parents house. They are snow birds so they aren't actually at their house down here but I was just looking for somewhere to hang out with some cool air. When I got there I was surprised to see that Debby had given them a real beating too. Their place is right on the bay and the storm had the water coming up over their seawall. There use to be a boardwalk lining the seawall that was almost completely washed away. Thankfully they had electric so I was able to stay there this morning. When I got home at 1:30 this afternoon our power was back on- phew. If this is what the tropical storms are doing this year, I'm going to hate to see what the hurricanes will do.




My mother in-law's flooded street :: View from my parent's balcony :: Thankfully the boat is still intact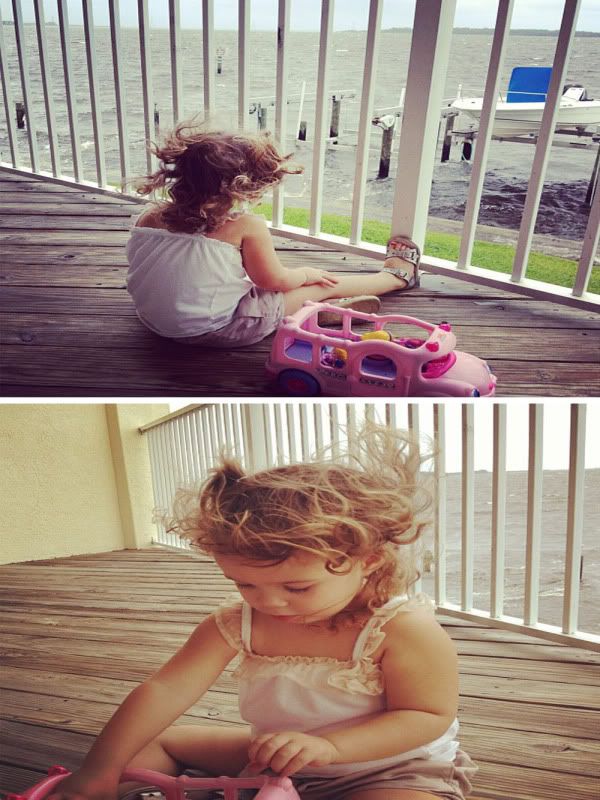 Aubs enjoying the wind