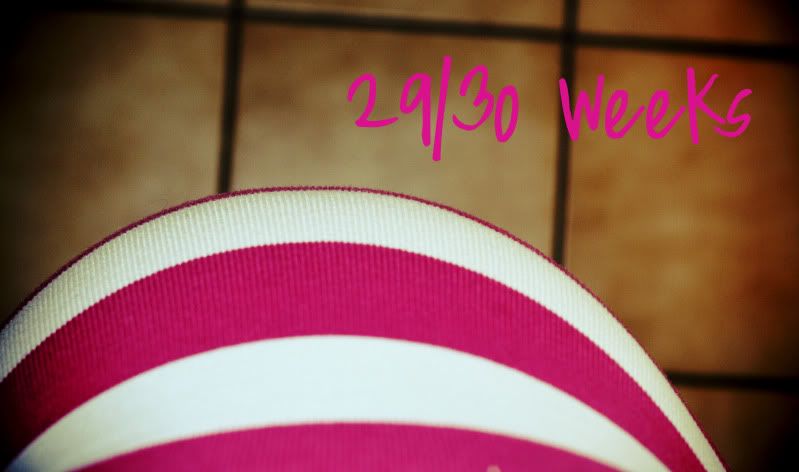 I am combining my 29th and 30th week because I hit the 30 week mark tomorrow and that way if I get to my 40th week I will still be able to post about it. Anyway, back to the important stuff. This past week has been a fantastic time in my pregnancy and full of good news. On Monday we went to my second high risk ultrasound. I had one previously at 23 weeks because they weren't able to get the readings that they wanted in a standard ultrasound. During that ultrasound, they found that the baby was measuring small and wanted to see me again in 6 weeks to make sure that the baby was growing. Well she isn't measuring small anymore, yay! She looks absolutely perfect and is weighing in at about 2 lbs. 12 oz and in the 47 percentile. We got the clearance that we no longer need to see the high risk doctor.

My second batch of good news came this morning at my 30 week check-up. I don't have gestational diabetes. Can I get a hell yeah? I failed my one hour glucose test and had to do the three hour which sucked but at least the results came back good. On my second blood draw(they do four) my numbers were only 2 points below what they consider high so I do have to watch my carb and sugar intake a little bit. I am 100% fine with this because now I don't need to check my blood sugar 4 times a day and I don't have to go in for non-stress tests once a week for my last month of pregnancy. I was convinced that I probably had it again so I am over the moon that I don't.

In non-health related baby news- we are still not sure about the name. The name that I love is pretty much a no go because my husband's family absolutely hates it. I totally regret opening my mouth up about the name now. My family on the other hand loves it and so do all of my friends. We could just go with that name anyway but I feel like I would get a lot of shit for it. My husband likes a name that I loved during my first pregnancy but he didn't like at that time. The problem with that is that I'm not sure that I really like it anymore. We have a name that we might end up going with because we like it and everyone else seems to be okay with it but I'm still on the fence. The name has gotten pretty popular the past couple of years and I can only see it getting more popular. So yeah- I don't know. We have 10 more weeks to decide.