I super nervous about posting about this because all the responses I have gotten to it so far have been negative. Here it goes anyway, I started the HCG diet today. I have struggled with my weight for as long as I can remember. I've gone up and down on the scale since high school. I'm usually pretty good at losing it and keeping it off for a year or so until I slip back into not working out enough and eating/drinking too much.

I hit my ultimate highest weight ever while pregnant with Aubs and have had trouble taking it off. I will do good for a couple of weeks and then fall off the wagon. The reason I am taking such extreme measures now is because I have been thinking a lot about having another baby and I pretty much refuse to do it at the weight I am. Ideally I'd like to start trying in Decemember or January and those dates are fast approaching. I want to feel good about myself while I am pregnant and more importantly I want it to have the healthiest pregnancy possible. This is why I have opted for this extreme measure just for a month. There is a two month option but I don't really want to put my body through the program for that long.

The program is basically an extreme calorie cut and HCG drops three times a day. Plus B12 drops and a multivitamin(which I already take). The diet plan goes: breakfast- coffee and an apple, lunch 3.5 ounces of protein, large serving of veggies, 1 piece melba toast, dinner-same as lunch plus an apple. It comes out to around 500 calories a day, which I found shocking and I'm sure you do too. From what I have read online it is totally doable- maybe it has something to do with the supplements. Currently I am eating normally for the first two days with the drops and then Tuesday I start the extreme stuff. You are also not suppose to exercise much on the plan which I am a little bummed about. Obviously I am not a gym rat or I wouldn't need to do this in the first place but I do like to work out and do frequently when Aubs doesn't have a runny nose and I can leave her at the gym's kid's club. I plan on still going to the gym when I can but keeping my workouts at a low intensity.

If anyone has tried this I would love to know if it worked out for you or any tips you may have. I am going to keep track of my progress on twitter and do an update here on my blog at the end of the cycle. Unless I find it to be too difficult and then I will post before the 28 days is up. Again, I know this sounds completely crazy but I thought I would give it a shot. Wish me luck!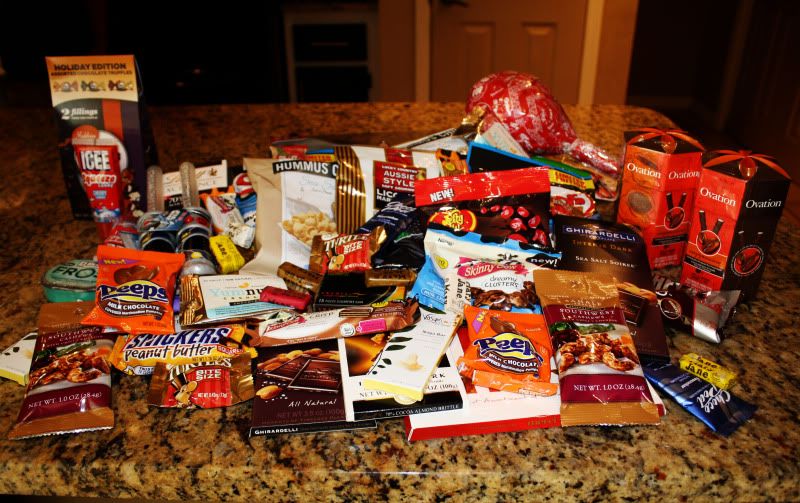 Oh and to add to the difficulties our friend Greg brought over this swag bag today. He was visiting from NYC because his Grandfather was being inducted into the candy hall of fame in Tampa. His grandfather owns and operates Callie's Candy Kitchen in the Poconos. They have the best chocolate ever, my wedding favors were even chocolate from Callie's. At the ceremony they gave away these amazing swag bags of candy and all other things bad for you. The hubs is definitely taking it to work with him in the morning.