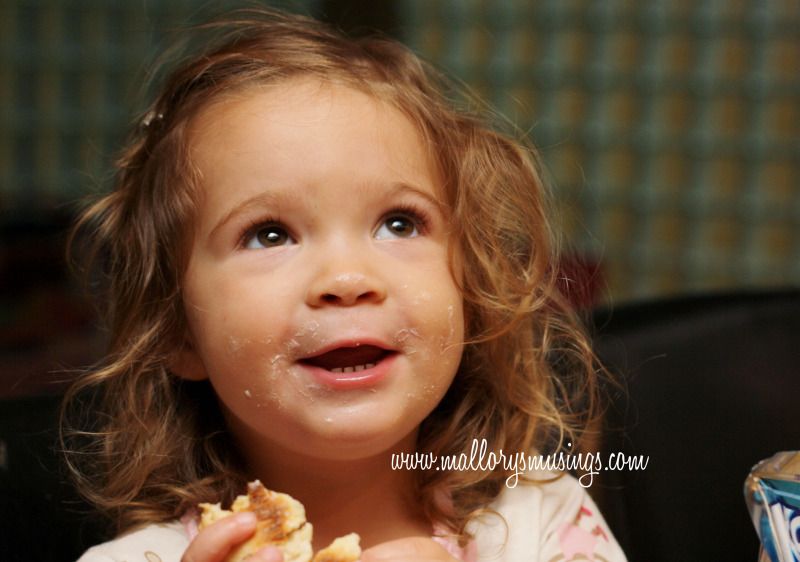 Adding a baby to the mix has been a big adjustment for everyone but the person who has had to adjust the most is Aubrey. There really isn't much you can do to prepare a 2 1/2 year old for this life changing event. Sure we talked about it a lot with her and she seemed excited about her sister but we really have no way of knowing if she really understood what we were talking about. Actually I'm pretty sure she had no idea what we were talking about and just went along with what we were saying.

Aubs was a lot better than I expected upon their first meeting. Aubrey hates hospitals because she goes to All Children's Hospital to get her eyes checked so every time we have walked into a hospital she has lost it. Thankfully this time she kept her cool. My in-laws brought her to meet her sister the day after she was born. Joey met them downstairs so that could help out with any potential meltdowns. When she first came into the room she immediately ran over to me and gave me a big hug. All she was concerned about was showing me the princesses that she brought with her in her Minnie Mouse purse. We then pointed out her sister. Joe walked over to the bassinet with her and held her up to see. The first thing she did was poke her in and the face and said, "baby". Luckily the poke wasn't hard enough to wake a sleepy newborn. After that she looked at her for a little bit and said, "Finley, so beautiful." Yeah that girl knows how to warm your heart like no other.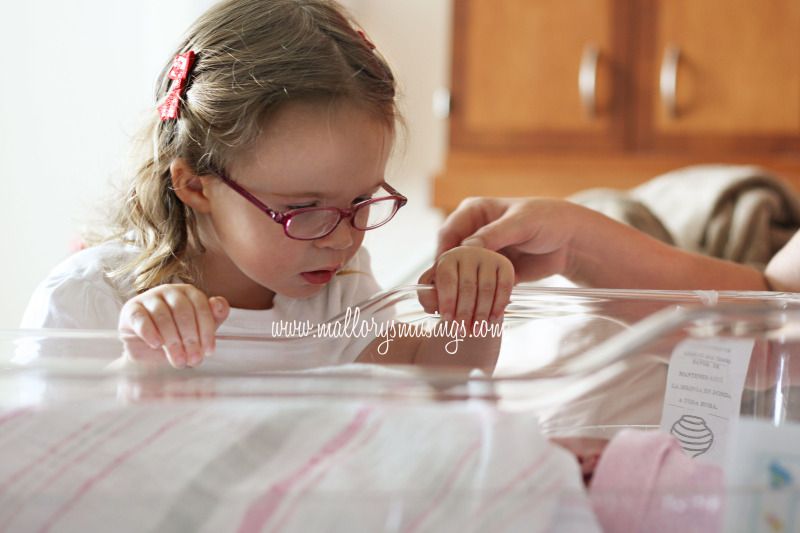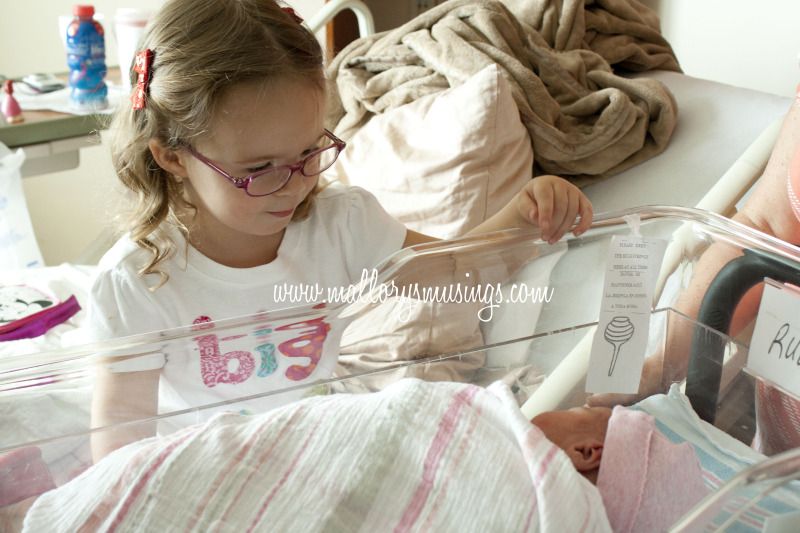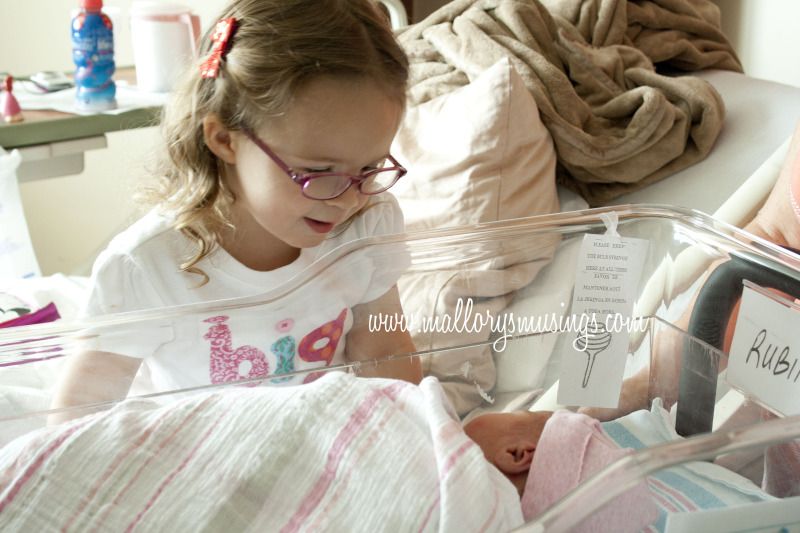 So how has Aubrey been since we brought Finley home? Ehhh.... she's been okay. The first few days we didn't encourage too much interaction between the two of them because Aubs had a runny nose. Also Aubrey seemed pretty uninterested so we didn't push it. Now she pays more attention to her. She will ask to give Finley kisses and hugs. She will also help out by running Finley's dirty clothes to her room to put in the hamper. So I guess things are looking up as far as interaction goes. As far as behavior goes, Aubs hasn't been great. She is definitely acting out and being a lot more aggressive than usual. We expected her to do this a little bit but I wasn't expecting her to do it as much as she is. Thankfully Joe is home to help tame her but she has definitely been more than a handful ever since we brought the baby home. It has only been two weeks, less actually because I was in the hospital for two days, so it's all still very new. Luckily the baby seems to be falling into some what of a schedule so I am able to hang out with Aubs a little more than I was able to the first week and that helps.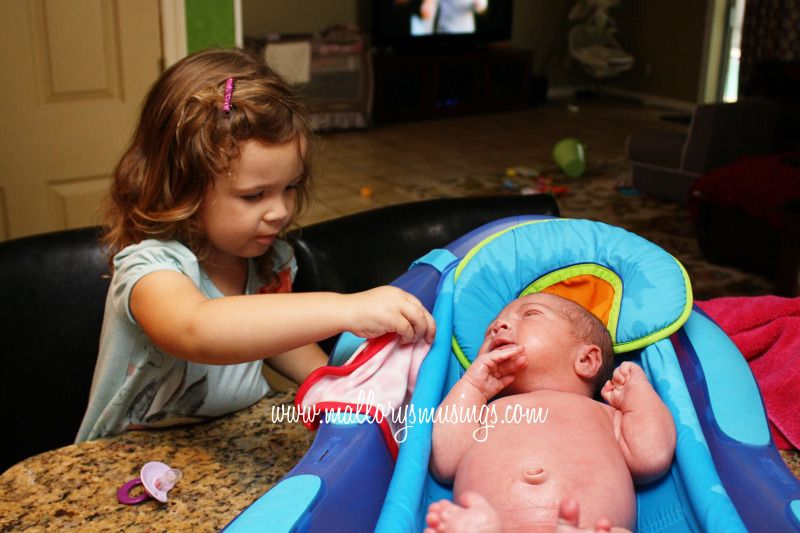 Helping out with Fin's first bath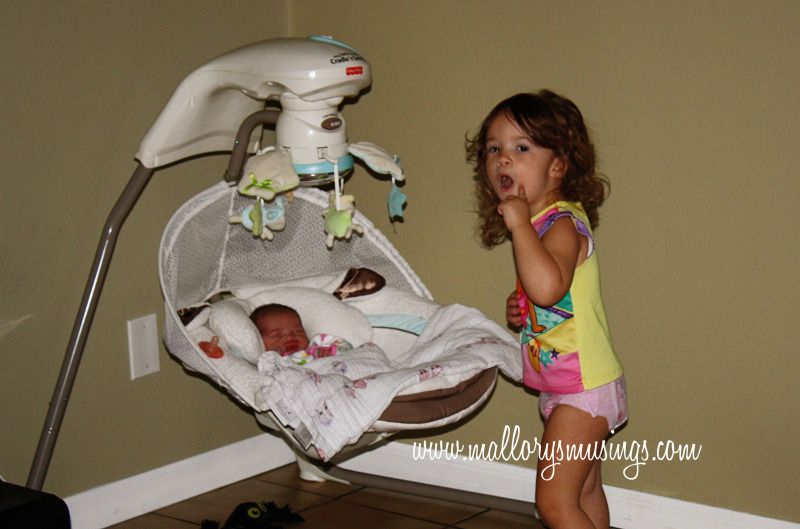 Dancing to the music from the mobile and mimicking Finley's finger touching her cheek.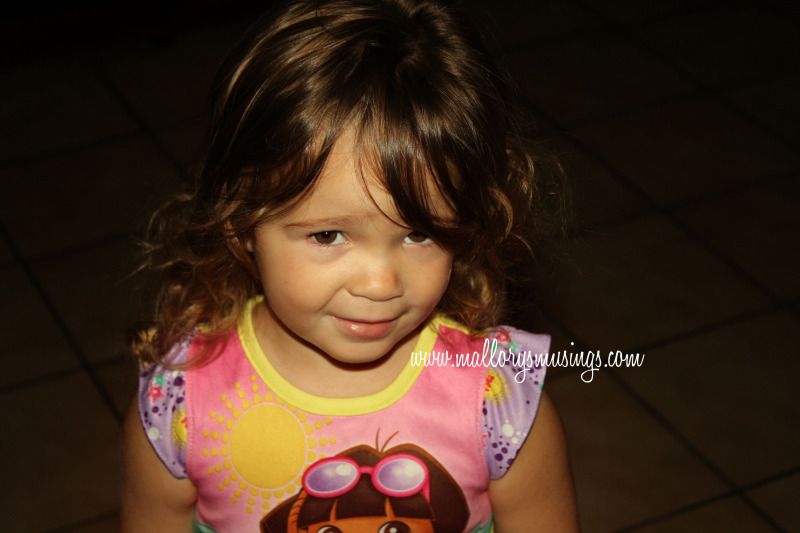 Don't let this sweet face fool you.